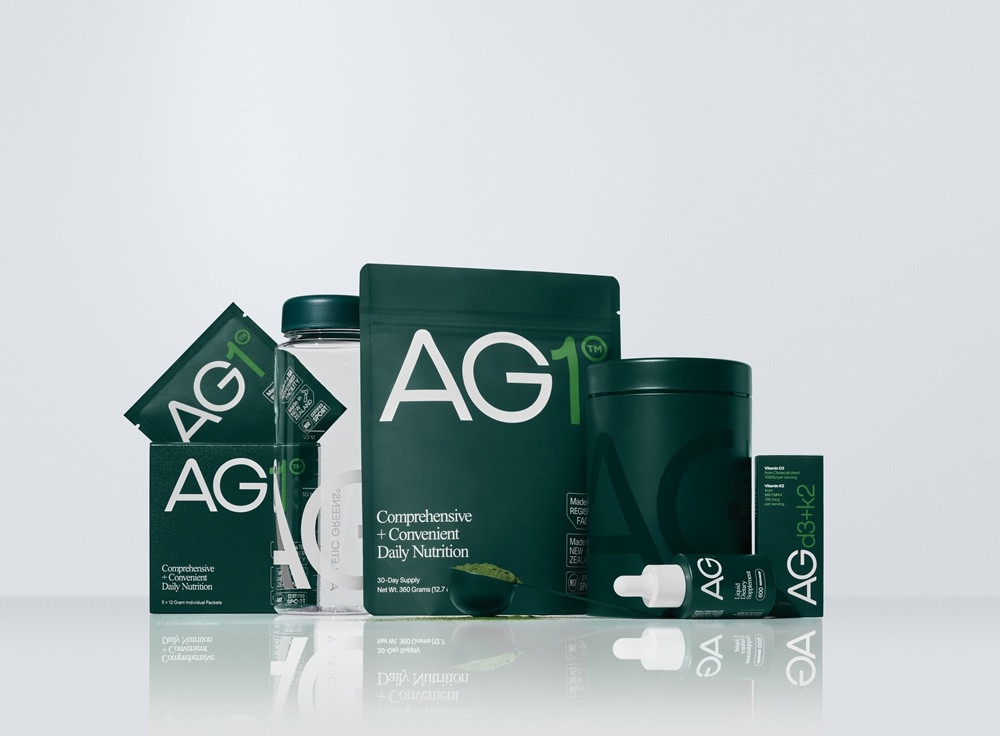 Offer
10 free Travel Packs (value: 34€) with every first subscription order including a welcome pack with the AG1 monthly pouch, a high-quality storage tin and a shaker. 
Your AG1 Subscription: as flexible as you!
Monthly delivery, conveniently to your door. 

You can pause, cancel or adjust the delivery frequency at any time. 

In addition, Athletic Greens is offering a 60-day money-back guarantee.

Product Description
AG1 is an all-in-one supplement packed with 75 vitamins, minerals and other wholefood-sourced ingredients to fill your nutritional gaps.

A single scoop daily can support

digestion

and

immune system

, promote

recovery

, and aid your long-term

cognitive health

. In addition, AG1 supports

healthy aging

and promotes hair and nail growth. 

Packed with live cultures for gut health, superfoods and botanicals.

Vegan, Paleo and Keto friendly and also the perfect choice for those with food intolerances (no gluten, dairy, nuts, etc.) 
Athletic Greens was founded over 10 years ago and AG1 (previously "Athletic Greens Ultimate Daily") was developed with the help of physicians, alternative health practitioners and nutritionists with the goal of providing the most nutrient-dense dietary supplement in the world. The formulation of AG1 is constantly evolving according to the latest scientific studies and you currently find the 52nd version on the market.
AG1 is 'NSF Certified for Sports' in the USA . This certification ensures that AG1 meets the quality and safety standards required for professional athletes in the U.S. and confirms that the content of each pouch is inline with the labelling. It doesn't contain any GMOs, harmful ingredients, artificial colors or sweeteners.
The world's best endurance athletes like Sebastian Kienle, Imogen Simmonds, Tim Don, Timothy O'Donnell, etc. are endorsing AG1 from Athletic Greens.
"For me, AG1 is not a dietary supplement, but simply the most nutrient-dense food available." - Sebastian Kienle, Challenge Roth Winner 2018
Recommended Consumption:
Best consumed in the morning on an empty stomach, 30 minutes before the first caffeine intake. 

Fill a glass or shaker with 250 - 350ml of cold water. 

Add 1 serving (12g or 1 Travel Pack) of AG1 to the water.

Shake or stir for 20 seconds.

Drink & enjoy!
Note: AG1 does not replace a balanced diet, but is a daily supplement to fill the nutritional gaps in your diet.